Metal fabrication and finishing are popular processes for industries such as construction, mining, manufacturing, agriculture, automotive, transport, aerospace and infrastructure. If you need metals fabricated for your business, which finish do you choose? When and why? While the list is likely longer than the NSW-QLD border, let's look at some of the more common metal finishes and for what they are suited.
What are the most common finishes used?
Metal finishing is all about altering metal properties to achieve a functional or aesthetic change. According to research company IBISWorld, the metal coating and finishing industry in Australia is valued at $2 billion – indicative of the demand across multiple industries and applications.
Blast cleaning (or Abrasive blasting)
Blast cleaning or abrasive blasting is used to remove surface contaminants and produce a clean, smooth finish. It helps to ensure the surface of your substrate is clean and ready for any other coating processes. It works by shooting abrasive particles through a jet stream of compressed air onto the surface of the metal. The process combines finishing and cleaning into one – saving both time and money.
Powder coating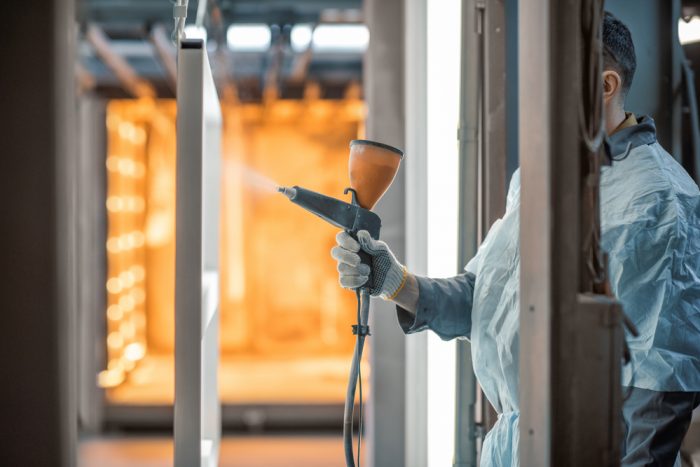 Powder coating is best described as a finish resembling paint, but way more durable. It is a decorative finish that melts dry plastic powder or paint granules onto the metal to give a textured, matt or glossy finish and is excellent on steel. Powder coating is used in a wide number of industries, including agriculture, construction, architecture, automotive and transport.
Spray painting
Spray painting is an extremely popular finishing option for metals like steel. It is a simple process of spraying some paint coats onto the metal to achieve the desired finish.
Electroplating
Electroplating involves depositing a thin coating onto the surface of a substrate to build surface thickness. It is done by sending an electric current through an electrolyte solution (bath). The metal substrate is immersed in this bath where dissolved ions of a different metal bond to it to become the coating.
Electroless plating
Electroless plating is a controlled autocatalytic deposition of a continuous layer on a surface. It occurs due to the reaction of a complex compound and a chemical reducing agent. It provides protection from wear and abrasion, resistance against corrosion, and adds hardness to parts. This process is commonly applied in engineering, aerospace, oil and gas, construction, electronics and others.
Passivation
This prevents the problem of white rust (and can descale stainless steel to increase corrosion resistance). It involves plating the substrate with zinc or zinc alloy to make it passive to environmental factors such as air and water.
Anodising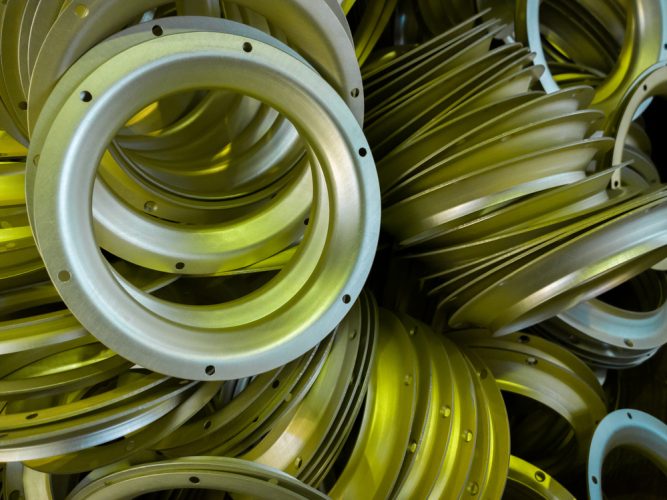 This is a good option used by many metal and aluminium fabricators in Sydney. Through an electrolytic process, anodising deposits a thin, protective oxide film on aluminium and nonferrous metals. It helps to increase corrosion resistance, reduce the impact of normal wear and tear and generally gives a stronger, harder finish.
Vacuum impregnation
An ideal surface treatment for porous cast metals prone to leakage, vacuum impregnation reduces or eliminates micro and macro porosity using vacuum pressure to remove air present as the casting solidifies. It also injects a sealant to form an airtight seal.
Mass finishing
Mass finishing is a fairly cost-efficient method of bulk polishing a high volume of smaller, more technical parts. It sees parts and a specific medium put in a drum together, which is then vibrated or tumbled. The process is useful for degreasing, descaling, rust removal and general surface cleaning, and is relatively low cost.
Hot blackening
Hot blackening is the process of coating ferrous materials, stainless steel, copper, copper-based alloys and zinc materials with an iron oxide chemical coating. It turns the metal black to enhance its appearance, reduce light reflection, and improve resistance-wear and corrosion.
Brushing
Brushing is a useful process when your specs state a dull, matt sheen on steel. A fine bristle brush, belt or a wheel moving in a sole direction is used to create a dull polish through a friction process. Then it is softened with a greaseless compound or a medium non-woven abrasive belt or pad.
Patterning
Patterning is used mainly for stainless steel sheets to achieve an attractive pattern on one or both sides. Producing a decorative finish, it is a popular finish for many Sydney stainless steel fabrication projects.
Buffing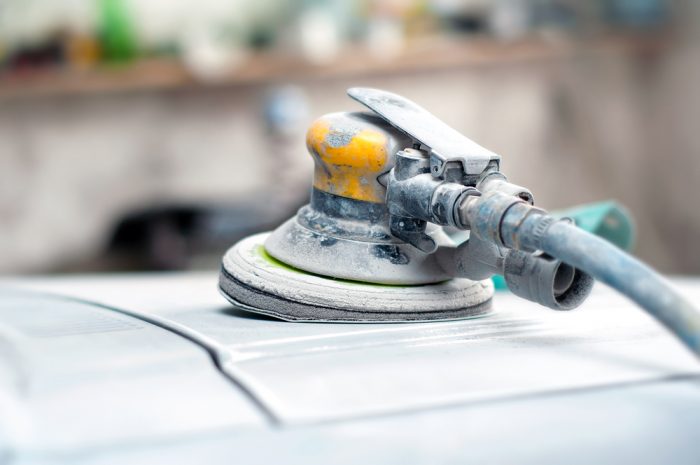 Buffing is used to achieve brighter, lustrous finishes on metals and compounds. Automated polishing machines are used with either/both rough and smooth abrasives to remove imperfections like nicks or scratches to gain the finish required.
Electropolishing
Electropolishing is an electrochemical process that removes material from a metallic workpiece to reduce surface roughness by levelling micro-peaks and valleys. It offers improved surface finishes.
Hot dipping or Galvanising
Whilst metal can be dipped in just about anything (including molten plastic and paint,) the hot dip galvanising of iron or steel is most common in industrial contracts. It involves cleaning steel and immersing it in molten zinc (around 450 °C) to obtain a long-wearing, highly protective coating.
How do you work out which finish you need?
Almost every time, the key factor is 'end usage'. This will undoubtedly be reflected in the final product and what you need. Some of the factors that may help you determine the ideal finish include:
Substrate type
Function of the item or component
Atmosphere and working conditions (indoor, outdoor, volatile, damp etc)
Aesthetic appeal or functional suitability
 Depending on the metal you use, a particular finish may be more suited than others, so it's important to understand each one's properties. For example, there are some key differences between mild steel and stainless steel, which make them suitable to varied applications. If you cannot work out the right finish for your product, an experienced fabricator with extensive knowledge can help you make the right decision. 
What to consider when choosing a metal finish?
Some of the factors to consider when choosing a metal finish include:
Cost
It may be a good idea to understand the costs depending on what you need. While skilled fabricators may be a little more expensive, the quality and integrity of the product trump all. That's why experienced fabrications follow stringent quality control processes in metal fabrication. Cutting costs on metal finishing can lead to disaster when the finished product is put in a working environment and its coating can't handle the job.
Duration
Some finishing processes are done in a day, while others take longer to cure or bond. Investigate time frames with all potential finishing options for that specific task so it is given enough time to cure before you use it for your business.
Lifecycle
A very important issue. Some coatings diminish far more quickly than others. For this reason, it is a good idea to talk to your fabricator about the purpose of the product or prototype, so you receive the right advice and can make a more informed decision. 
In summary
Depending on the product and its purpose, try not to make any guesses regarding metal finishes. Before determining the best fabrication process and finish, talk to a skilled fabrication professional like Prime Fabrication to help you make the right decision for your business needs. Proper knowledge ensures accuracy and eliminates money and product wastage.
Prime Fabrication has over 40 years of experience in metal fabrication in Sydney and has handled all types of jobs and finishes. Find out more about our services and how we can help you.